Hydraulic Engineering
Nagoya, a large city located in low flatland of the Tokai region, has experienced the storm surge damage from the Isewan Typhoon (1959) and the inland flooding from Tokai heavy rains (2011). Basinwide comprehensive flood disaster prevention and mitigation becomes the key idea of flood risk management and climate change adaptation. In addition, we are concerned with the water resource problems such as droughts due to the rising temperature. We cover the following subjects: Hydraulic Engineering: Environmental Hydraulics I and II, Exercises in Hydraulics, Experiments in Civil Engineering, and Coastal and River Engineering.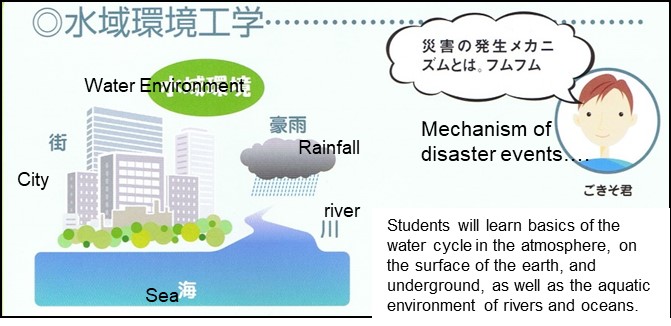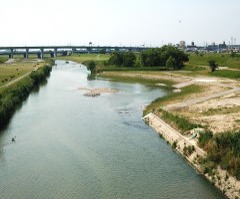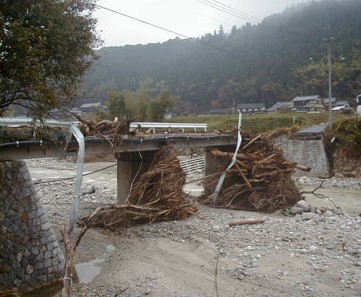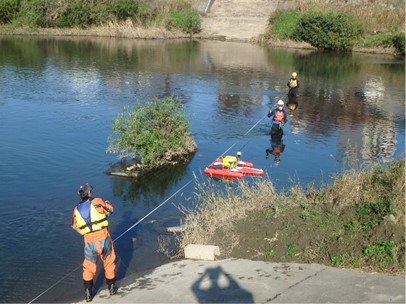 Hydraulic Engineering Laboratories
Basin Laboratory
■Teaching faculty
Professor
Yuichi Kayaba
■Research Focus
The River Basin Laboratory (Kayaba Laboratory) conducts a wide range of research to ensure catchments that are safe from flood, and harmonious with various aquatic organisms, and aesthetic landscape. Research is conducted from two perspectives, namely watershed flood management and the watershed environment, and covers dams, rivers, catchments, and floodplain areas, based on hydraulics, river ecology, and landscape engineering.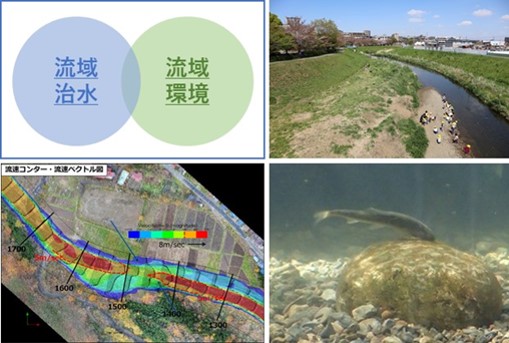 ■Laboratory HP
http://suiko.web.nitech.ac.jp/~river/
Coast Division
■Teaching faculty
Professor
Toshikazu Kitano
■Research Focus
The Nankai Trough earthquake, which is likely to occur in the next 30 years, will strike our living area. To predict storm surges, strong winds, and heavy rains due to the climate change, uncertainties should be one of the most indispensable factors. Sandy beaches gives a good sight and growing environment for life as well as a counter- measure against coastal storm surge disasters because shallow beaches diminishes high waves to be broken up. We are working on these coastal engineering problems.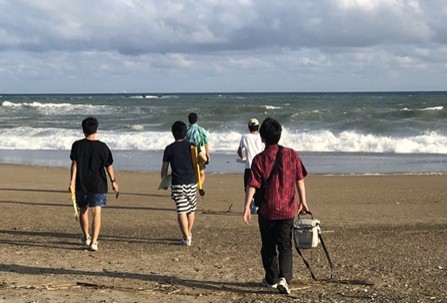 ■Laboratory HP
http://suiko.web.nitech.ac.jp/~coast/
Hydroclimatology Laboratory
■Teaching faculty
Associate Professor
Kenjiro Sho
■Research Focus
In order to prepare for possible future disasters and environmental changes, it is essential to investigate and analyze the events that actually occurred in the past. From this point of view, we are studying how to reconstruct past heavy rainfall, floods, and climatic changes back to the Edo period (17-19th centuries) using meteorological observation records, historical documentary records, and tree ring data, and how to use them effectively for flood protection plans.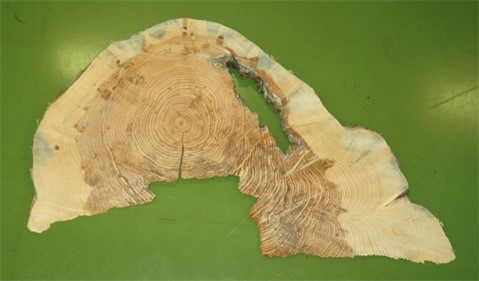 ■Laboratory HP