Structural
In the area of structural seismic resistance, we will learn about the design, construction, and maintenance of various structures supporting social infrastructure, such as bridges. With the aim of creating structures resistant to earthquakes and other disasters and ensuring durability, our extensive research uses advanced numerical analysis, precise experiments and measurement technology. Through study and research in this area, we can acquire knowledge and skills to apply in designing for seismic resistance and maintenance engineering.
Structural Engineering Laboratories
Structural & Earthquake Engineering Laboratory
■Teaching faculty
Professor
Tetsuya Nonaka

Assistant Professor
Takemasa Ebisawa
■Research Focus
We are conducting research on new robust bridge designs by elucidating the failure process of bridges from shaking to collapse under design limitation exceed earthquakes using experiments and computer simulations.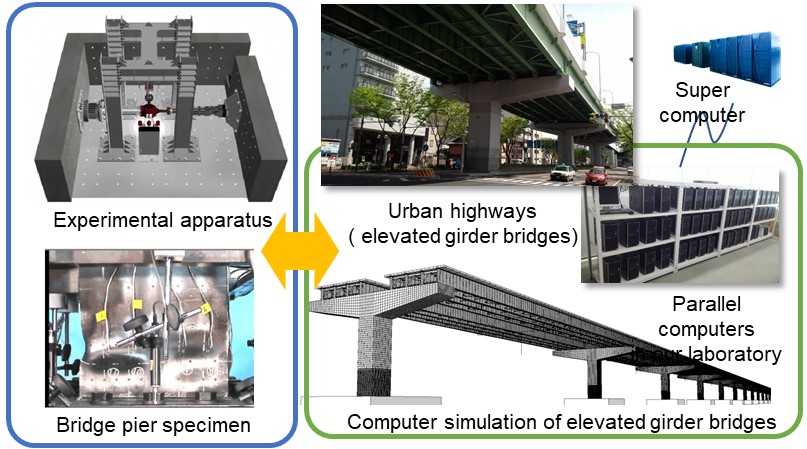 ■Laboratory HP
http://kozo4.ace.nitech.ac.jp/gotolab/
Structural Systems Engineering Laboratory
■Teaching faculty
Associate Professor
Kazutoshi Nagata
■Research Focus
The following studies are being conducted to protect structures from deterioration:.
Seismic behaviour of deteriorated structures
Soundness evaluation and maintenance of steel structures
Evaluation of corrosion environment and development of corrosion protection technologies




■Laboratory HP